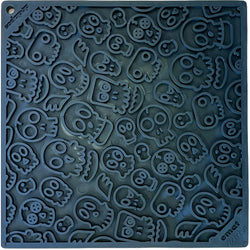 Zombie Enrichment Licking Mat
Licking mat with a zombie design for pets.
ENRICHMENT: Licking soothes and pet your dog. Spread your pet's favorite food, treat or supplement across the surface of the mat, ensuring the treat is pushed down into the surface of the mat.
BENEFITS: Calm your pet through licking. Entertain your pet. Avoid overfeeding. Stimulates saliva to aid digestive health
FILLER SUGGESTIONS: green tripe, pre-made grinds, yogurt (plain), any supplement like bone broth, kefir, goat milk (freeze it in mat before giving to pet to make it a long lasting interactive treat).
WARNING: This is not a chew toy. Supervise your pet while using this enrichment mat. If emat becomes damaged, remove from pet immediately.
CARE: This emat is dishwasher safe on the top rack. You can also wash in warm soapy water. 
Dimensions
8" L x 8" W x 0.3" H

Made in USA