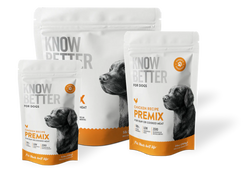 Know Better for Dogs - Chicken Flavor
Know Better for Dogs is designed to provide your dog with essential nutrients and protein for health and longevity.  It makes balancing a raw or cooked meat diet at home, easy and convenient.  This healthy diet is ideal for all life stages and is made with 100% human grade ingredients. 


Please note that you can use this premix with ANY type of boneless meat. 
This Chicken Recipe Supplement has chicken liver powder included.
No grains of any kind are used.  Just add any type of raw or cooked meat and water.
The most popular products that we recommend to use with this raw food base are ground chicken, turkey, duck, rabbit, green tripe, beef, pork, venison, elk, bison, ostrich, or lamb
Trial size (4.8 oz pouch) makes 6 pounds of finished dog food
24 oz pouch makes 30 pounds of finished dog food
5 LB pouch makes 100 pounds of finished dog food 
Know Better for Dogs is designed to be combined with water and raw or cooked human grade meat in the amounts and proportions stated in the literature.  It is not a food for dogs on its own nor meant to be a sprinkle-on vitamin supplement.  
All products are made fresh weekly and the shelf life is one year for cat food (if stored in a cool, dry place).  The shelf life can be extended to 1 1/2 years if the product is stored in the fridge or freezer.
Ingredients: Egg yolk, calcium lactate, pastured chicken liver powder, gelatin, rice bran, whey protein concentrate, beet root, psyllium husks, EFA from fish, barley grass powder, kelp, taurine, rose hip, parsley, Vitamin B complex.
*Further details as to why rice bran is added: Rice Bran is an insoluble fibre for intestinal health. Not considered a grain, but rather the coating of the grain, with little carbohydrate content. Sweeps the large intestine much like fur or feathers of a prey animal.