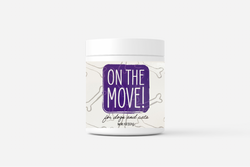 Wildly Blended - ON THE MOVE
On The Move is a hip and joint supplement unlike anything else on the market. This unique, proprietary formula contains ingredients that provide unmatched support for hips and joints.
Clinical studies have proven that collagen peptides provide more pain relief from osteoarthritis than glucosamine and chondroitin combined: demonstrating significant improvement in pain scores, functional joint status and a better quality of life.
On The Move benefits:
Prevents loss of cartilage and promotes collagen production

Natural oils in turmeric root can enhance the bioavailability of curcurmin seven to eight fold
Reduces the risk of bone loss
Enhances muscle mass and strength
Decreases joint pain associated with hip dysplasia, Osteoarthritis, and Rheumatoid Arthritis
Enhances immune function due to powerful antioxidant, prebiotic, anti-inflammatory, and anti-bacterial properties
Increases the liver's natural detoxification enzymes and improves blood levels of liver enzymes
136 DAY SUPPLY FOR A 60LB DOG / 408 DAY SUPPLY FOR A 20LB OR LESS CAT