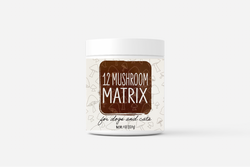 Wildly Blended - 12 MUSHROOM MATRIX
Medicinal mushrooms are microscopic fungi which are used for their health-enhancing properties. They are used in various applications in both powdered and liquid form. They are used for prevention and/or alleviation of diseases, as well as nutritive purposes. The active ingredients in medicinal mushrooms include polysaccharides (complex sugars), proteins, and glycoproteins (sugar-protein compounds). They are most commonly used as anti-cancer, anti-inflammatory, and immune-boosting supplements, but have also been proven to help with diabetes, high blood pressure, arthritis, lung disease, infection, GI diseases, cognitive disorders and more.
12 Mushroom Matrix benefits:
Lowering cholesterol

Preventing diabetes

Lowering blood pressure

Improving bone health

Improving nutrient absorption

Increasing iron absorption

Inhibiting microbial growth and fungal infections by containing natural antibiotics

Boosting the immune system with a "master antioxidant" called Ergothioneine
68 DAY SUPPLY FOR A 60LB DOG / 204 DAY SUPPLY FOR A 20LB OR LESS CAT
ALL MUSHROOMS ARE 3RD PARTY LAB TESTED FOR HEAVY METALS AND OTHER TOXINS.