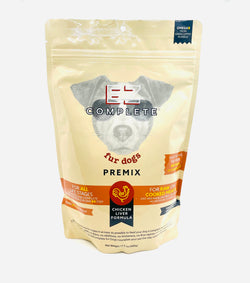 ​No More Guessing!
Balanced and complete homemade meals in one easy step!
For all life stages
For raw or cooked meats
Just add

boneless

ground or chopped meat & water
No fillers
No artificial flavors
Makes 24.4 LBS of food
450 grams
Omega 3's from green-lipped mussels
Ingredients: Dried chicken liver, dried egg yolk, calcium hydroxyapatite, eggshell, pork pancreas glandular, NZ green-lipped mussel powder, dried blueberries, dried kale, dried brussels sprouts, dried carrot root, digestive enzymes (bromelain, lipase, amylase, cellulase), sodium chloride, taurine, vitamin E, chelated iron, vitamin B complex, zinc, chelated manganese, chelated copper, vitamin D3, potassium iodide (iodine).